Discover more from The Last Chip
Chris Bosh on stories and lessons from behind the scenes of The Big Three's last NBA championship.
Over 25,000 subscribers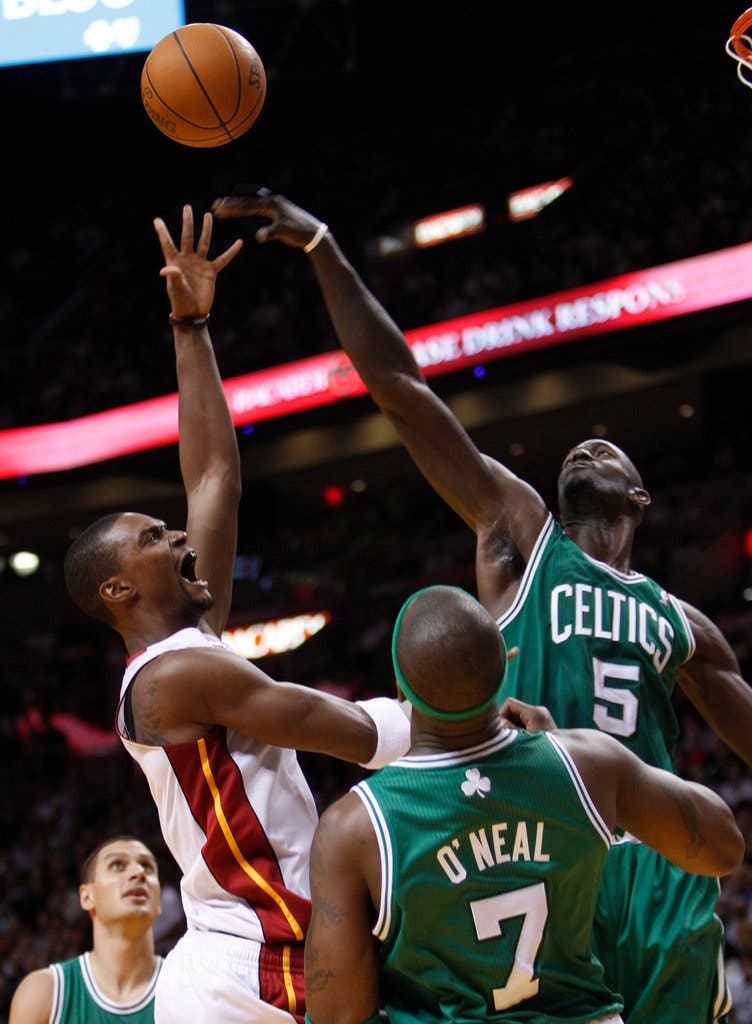 Let's start on Mother's Day, 2012. 
Things are looking good. After spending all year thinking about getting to the playoffs and redeeming ourselves, we just beat the Knicks in the first round. Now, we're about to face the Pacers at home. And, oh yeah – my wife just gave birth to our first son. Round two, game one, a ten-day-old at home.
Then, I tear my groin. 
At the top of the postseason, as she was gearing up to have our kid, I told Adrienne not to worry about how physical things got on the court: "Things are gonna look bad. But they're not gonna be that bad. We just have to keep believing no matter what."
Well. A groin tear? Pretty bad. In the doctor's office, they tell me I'm lucky I don't need surgery. That's a season-ender. Then they say: If I can play with some pain, I can play – in three weeks. Best-case scenario.
Three weeks from that day, I'm playing. Eastern Conference Finals, Game Five. Sore-ass groin. Good thing I'm playing with the exact guys you'd want to be picking it up in your absence. They beat Indiana while I recovered. But now, we're dealing with something different. Of course, every series is different. But this one is...different different.
It's Heat-Celtics. 2012. Everything on the line. 
I've written a bit about playing against your heroes. But "hero" doesn't quite do it for KG. Growing up, I wanted to be him – to the point that my summer league teammates started calling me by his name. Some of them didn't even know my first name – if they didn't call me Bosh, I was KG. He had every tool a young player could want, but he didn't play like anyone else. I'd watch him be tenacious in the post, crash the basket, and push the ball back down the floor, and all I could think was: What is that? Then I would go straight to the park and imitate what I'd just seen.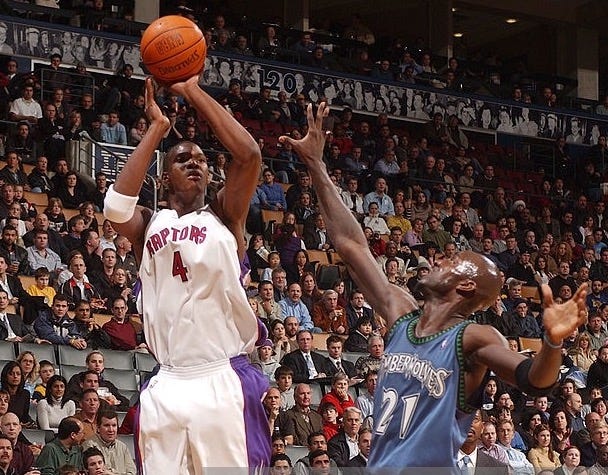 I kept asking the same question once I got to the league and saw KG playing that way up close. A few people compared me to him, which was good, because that was exactly what I was trying to do. I even inherited a mentor from KG: Sam Mitchell, my coach in Toronto, was his OG in the early Minnesota days. I tried to play it cool while I asked Sam to tell me everything he could about working with Kevin. 
My second year, we played our third game of the season against the Timberwolves. Sam called two isos while KG was guarding me – and twice I hit two big buckets down the stretch.  Having a big game against my hero and finishing down the stretch was a dream of mine since I was a kid, and now it was happening in real time. 
After that game – which we won – a reporter went up to KG. I don't know if that guy was feeling himself or just trying to start shit, but he asked him something like: "How do you feel about CB saying he schooled you?" I think KG knew I'd never say anything like that – or I hope he did. 
Everything changed after that.  When he was on defense, he'd grab me with both hands as soon as I crossed halfcourt. I couldn't even raise my arms above my shoulders. I'm still curious where the refs were looking. Either way, I immediately felt the difference between elite NBA strength and whatever strength I had at the time.
We'd see each other a few times per year, and at every All-Star break. KG got even stronger every time – on offense, defense, and with his trash talk.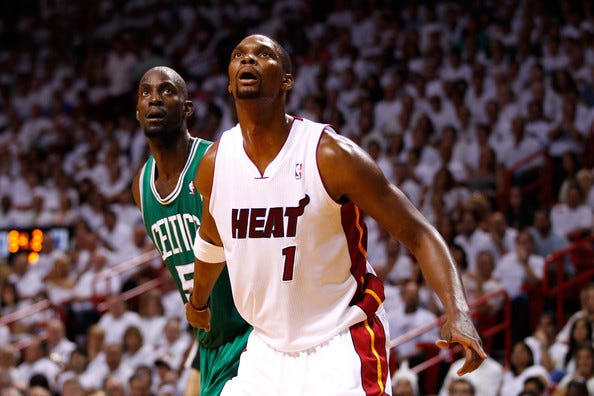 One day, we were going at it. He was doing his usual smash-and-grab shit, I was trying my best to respond...and then he called me a momma's boy, among other things. "Off-guard" doesn't begin to describe the way that caught me. It was masterful. Trash talking while playing was never my thing and I was full on feeling myself, thinking I've arrived as a "grown man." KG had met my family at All-Star weekend in Vegas and he saw my family dynamic at that time. Was I a momma's boy? I was. From then on, I was fuming. I had a bad game, and we lost. Mind you, I wasn't a rookie anymore – I was a five-time all star. And he cooked me. Like, four possessions, nine points in a row, all post-ups, same play — in overtime. Game over.
Back to 2012: After three weeks, I'm coming back, midway through our series with Boston. It's tied, two apiece. The night before Game 5, I get a massage – the usual. The masseuse is a friend of our family.
But before she can start working on my back, she collapses in our house.
We call an ambulance, and the medics resuscitate her in my bedroom. Minutes later, she passes away. It's tragic. 
Hours before tipoff, there are helicopters flying over my house. It's a real blow, mourning that loss on the way into a game. It's surreal, actually. But working for years to play professionally gives you a mentality that's all about pushing through anything. That's not to say you should ignore tragic events – matter of fact, playing hard can help you work through them sometimes.
We have to harness that same mentality of pushing through adversity when Boston beats us that night. Paul Pierce hits a last-second shot over Bron – at home. We never lose at home. We whoop ass at home. We're a problem at home. Not this game.
All I can think about everything that's happened so far is: This was not supposed to go like this. We're supposed to be going back to Boston with a whole different attitude, hot off a win, ready to clinch. You start to get a feeling like you are owed better.
But when we get up north, we don't let the L in Game Five bother us. Sure, it's not going the way we planned – but by now, what has?
My groin is still hurting in the locker room before Game Six. The energy in the air is charged — and everyone's silent, pin-drop shit. "I ain't gonna lie," D tells me, "I didn't think we could  handle it." He wasn't wrong to have doubts: We may have won the first two games but we lost our footing over the next three. "I'm looking at you, and you could barely run," he says. Right again: There's not much that I could offer, with my injury. That shit was painful . 
Still, it's the playoffs. I'll never take being there for granted. My groin may be killing me, but I still want to figure out the best way to contribute. And I know this game is about to be crazy.
As we prepare to leave the locker room, Bron glances outside and breaks the silence to say something: "David Stern here, huh? They got the trophy here, huh?" When you spot the commissioner in the tunnels, you know that means the series could possibly end that night and an Eastern Conference champion could be crowned and it's not for you. So that fires us right back up, right onto the court.
Midway into the first quarter, it's hard to stay focused on anything other than the pain. I'm sticking under the basket, trying to be effective on the boards and maybe be some sort of decoy on offense. That's when I realize something: Bron hasn't missed yet.
When you're playing against a great defense and you find yourself not scoring, it's easy to worry that you're not doing your part. But tonight, I'm happy to let Bron do his thing — Pop. Pop. Pop. Bang. Bang. Bang. Turn around. Dunk. 3 pointer. Mid range. EVERYTHING.You can't depend on something like that, but when Bron goes Bron, you know what's happening and you get out of the way and keep doing the other stuff. Next thing we know, we're up 20, and the clock's down to seconds.
That's one of the best playoff performances of all time, no contest. And seeing it up close is a whole other degree of amazing.
After everything I've experienced over the past month – with the team and on my own – I'm feeling the ultimate confidence going into Game Seven. 
Coming back home to end the series after tying things up is one of the best positions you can be in – especially when you didn't think you'd be there just a few hours earlier. At the shootaround that morning, my shot  is falling, even when I'm not paying attention. Winning tonight feels like destiny.
I get a chance to test that mindset out at lunch with my friend. "Man, I'm not gonna miss today," I tell him. He's all "fuck outta here" – but I'm feeling it. I'm feeling that we're here for a reason, after all the setbacks we've faced, together and individually. 
So when we get out there that night and I'm still hurting, I'm not even thinking about it anymore. Spo has me coming off the bench, so I have some minutes to strategize. I'm just letting it go today, I tell myself. I'm just gonna shoot it. It's rare, having enough confidence to feel that way in the playoffs. Especially coming off an injury. Especially going up against a whole other Big Three. Especially knowing KG might get in your ear with some smack talk. Given any of that, it'd be easy to think you might lose your rhythm.
Not tonight.
The first shot I get up is a three, and it goes in. I find my friend in the crowd, point a finger-gun at his ass. I do it again for everything I make after that. He's going crazy. It's better than any comeback I could have put up at lunch.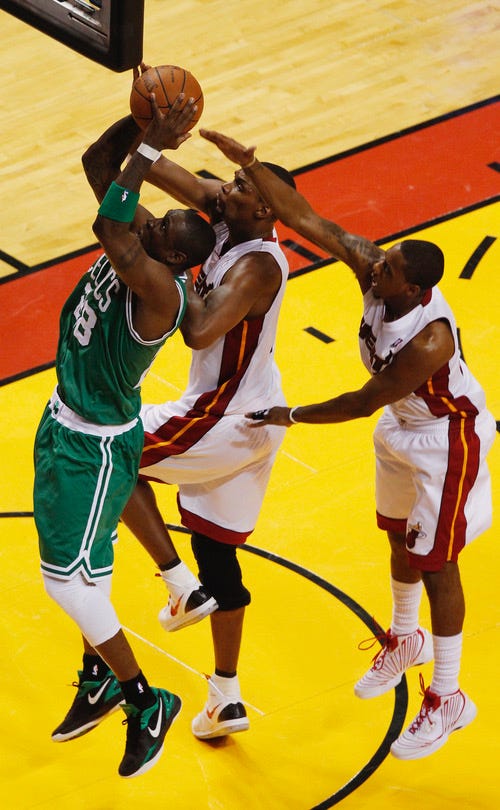 I don't think I've ever shot three threes in a game before, but now I'm feeling it – and if you're on in the first quarter, you get to keep going. That's just how it works. If you stay locked in, you can shoot whatever you want. And midway through the fourth, we start pulling away. 
When you lose a playoff series, there's not a lot to do but walk off the court. I catch KG as the Celtics are heading out. It's an intense moment – he's an intense guy. He's looking right at me in the eyes when he says, "Remember what that pain felt like."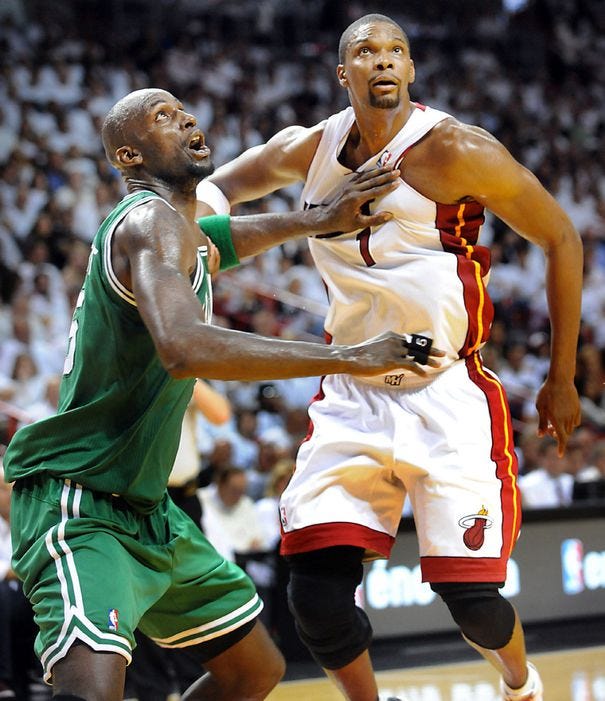 I do. It's the fuel I've been using all season. And we still have a Finals to win. A few nights earlier, we watched OKC come back from an 0-2 deficit to beat San Antonio. Just like with Boston, we're heading to face some guys we know aren't messing around.
And let's be real: We're not messing around either. Not only have I been coming back from a groin injury, and then a deficit against the Celtics — I've been trying to figure out how to cope with personal loss, too. Amidst all that, I have a new kid. There's more to deal with than just basketball. In fact, basketball seems like the easy stuff now. It's how I cope with everything else that's going on. That's another thing I won't take for granted.
So here's some advice along those lines — not only for this year's Heat and Celtics, but for everyone going through tough times in general:  When everything is coming at you at once, don't tune it out; that will never work. But channel your adversity into perseverance—and never lose your winning mind frame, no matter how bad it gets. 
Attack each game like you'll never make it back. Because that, right there—that's what it takes to be a champion.