Discover more from The Last Chip
Chris Bosh on stories and lessons from behind the scenes of The Big Three's last NBA championship.
Over 25,000 subscribers
Welcome back to The Last Chip, the newsletter where I share stories and lessons from behind the scenes of The Big Three's last championship season. This is a free post, but if you want access to every issue of The Last Chip—and if you want the chance to talk with me directly in the comments—you should become a paid subscriber.
All proceeds from the first month will be donated to Color of Change, a leading organization in the Black Lives Matter movement, and all it costs is five bucks, so sign up now: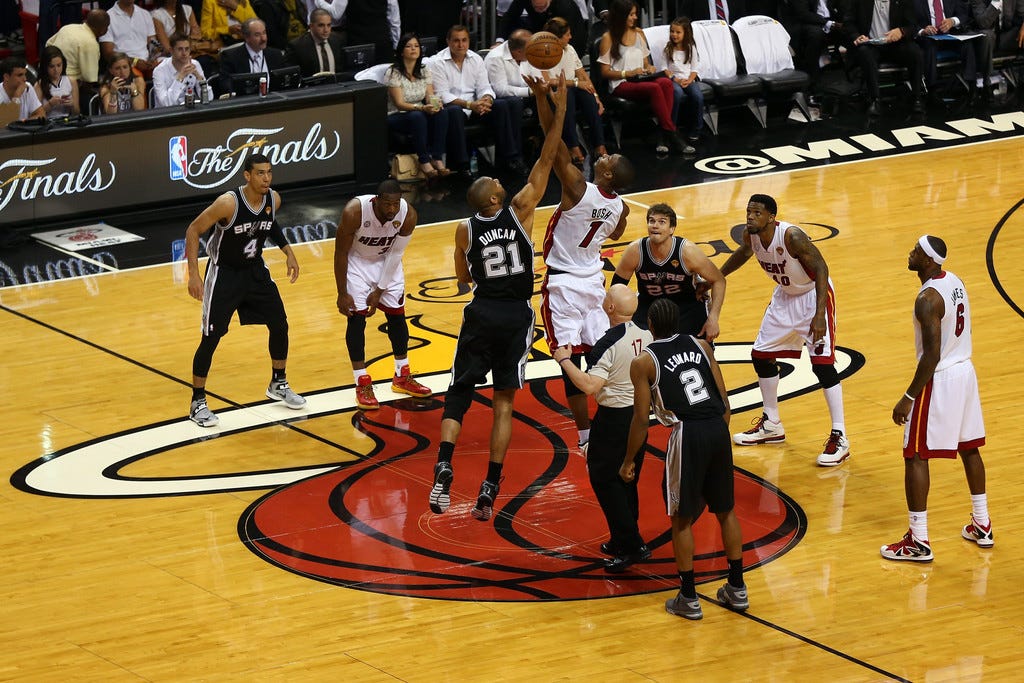 One of the greatest sounds in sports is one you can't hear at the arena but plays in millions of homes around the world: NBA Finals Music. Growing up, I looked forward to hearing that "duh-nuh-nah-nuh" the way a budding comedian might wait for "Live from New York…." I would come off the bench for the starting line ups before the game in my living room and act like I was getting ready to play.
In those days, whether I got to hear that song—or watch any of the games that followed it—depended on how our economy was doing. If it was up, we had cable, and I'd have my eyes glued to every playoff game from tip to buzzer. If it was down… I'd have to play that theme music in my head and wait for the Finals until it came on national TV. Either way, the moment the whistle blew at the end of each game, I was out balling, hoping that one day it'd be me on TV—playing for the NBA championship. 
If it was too late to get up shots outside, I would spend the night dribbling inside, which was definitely less than ideal for everyone else in the house. But I wasn't going to let anything stop me from getting better. Because The Finals were the dream, and the guys I watched winning them year after year were the closest thing I had to superheroes.
I was seven years old when the Bulls started in on their first three-peat in '91. Two years later, the Rockets took back-to-back Finals. By the time I got to high school, MJ had returned to lead Chicago to a second three—peat, and then, Kobe and Shaq brought the Lakers a three-peat of their own. That was a wild decade to be a basketball fan—let alone a kid who wanted nothing more than to play in the Finals himself.
Of course, those weren't my only idols. I was a freshman when Tim Duncan won a championship in his second season. 
Watching someone weaponize the fundamentals the way he did—earning his nickname in the process—made me realize how much I needed to work on my own. The summer TD brought home his first title, I was in Dallas, working with Kenny Blakeney and Thomas Hill on my fundamentals in any gym we could find. Kenny, who's about to start coaching Makur Maker at Howard, helped expand my very idea of what the fundamentals could be. Sure, I learned the Triple Threat that summer. But I also came to understand that if I wanted to devote my life to basketball, I'd need to rely on my mind as much as my body.
That lesson paid off fifteen years later when I was a thousand miles east in Miami, getting ready to face The Big Fundamental himself in the opening tip of the NBA Finals. We'd been this far before, but it's intense every time. And after going seven games with Indiana, we weren't necessarily intimidated by the Spurs, but we were wary. 
I hadn't realized how wiped I was during the Pacers series until after I won it when my kids asked me to pick them up. I got my arms around both of them…and put them right back down. Too beat. Luckily, we spent our first day preparing for the Finals watching film instead of lifting, studying everyone we were about to play against—Duncan, TP, Kawhi, Manu, Danny Green, Tiago Splitter; Matt Bonner, Boris Diaw, and DeJuan Blair, too. We looked at Pop's offense system, figuring out how we'd react to Strong and Weak Motion. The Spurs were as deep a team as us, and had even more chips under their belt.  
Hell, they'd never even trailed in a Finals. Never even went down a game! I held that stat in my head as we spent the next three days prepping for San Antonio's visit.
I've talked about the importance of treating the playoffs like you would any regular game. But the Finals test that. Because there isn't anything normal about them. Every June, the NBA takes over two major American cities. The media follows. Before we ever stepped onto the same court as the Spurs, we felt the microscope descend, as we practiced in front of cameras and reporters for an hour each day. Think about that: Mandatory public practice. How are you supposed to treat it like an ordinary game when you've got dozens of reporters watching you get stretched out?
At the Finals, your entire day comes to be built around the national pastime that isn't sports—television. When I was a kid, it was the lens through which I watched the game. By 2013, those cameras were in charge of my schedule. They were the reason the starting lineup announcements in the Finals are the longest introductions you've ever heard. They're the reason American Airlines flashes gold lights as you finally trot out instead of the usual team colors—high-fiving your teammates not just to get hype but to remember why you're there amidst the pandemonium. Then? The network puts five more minutes on the clock for you to warm back up, and for everyone watching at home to get a beer and a snack. It's nine PM. Let me say that again: It's nine PM, and we're still five minutes from tipoff.
Tim Duncan won that tip over me, and many others. That man had either the most impeccable timing I've ever seen (which he did) or the key to refs' hearts (which…he also did), because every time I tried to do what he did to win a jump ball, it would be a violation. I never learned that timing. 
The rest of the game went similarly. In general, I hate Game One. After spending days preparing for a team based on tape from the past, you have to recalibrate to address the way they're playing right now. It's a cold war in sneakers—you're sussing each other out, not quite sparring yet. By halftime, they had slashed the lead we'd been steadily building off Bron and my midranges and Ray's threes. We got it back in the second half, but with Tim facilitating the rest of his team in and around the paint, the Spurs' game had evolved a step ahead of our own. A bank shot from TP, with five seconds on the game clock and none on the shot clock, sent us off the court with plenty to think on.
It's fine to be disappointed—necessary, even. But you can't let that stop you from asking questions of yourself and your teammates. Why did we lose? What can we do better? By the next time that theme music played on millions of TVs around the country, we needed to have the answers.