Discover more from The Last Chip
Chris Bosh on stories and lessons from behind the scenes of The Big Three's last NBA championship.
Over 25,000 subscribers
Happy tenth anniversary of The Decision, and welcome back to The Last Chip. This is the newsletter where I share stories and lessons from behind the scenes of The Big Three's last championship season. This is a free post, but if you want access to every issue of The Last Chip—and if you want the chance to talk with me directly in the comments—you should become a paid subscriber.
All proceeds from the first month will be donated to Color of Change, a leading organization in the Black Lives Matter movement, and all it costs is five bucks, so sign up now: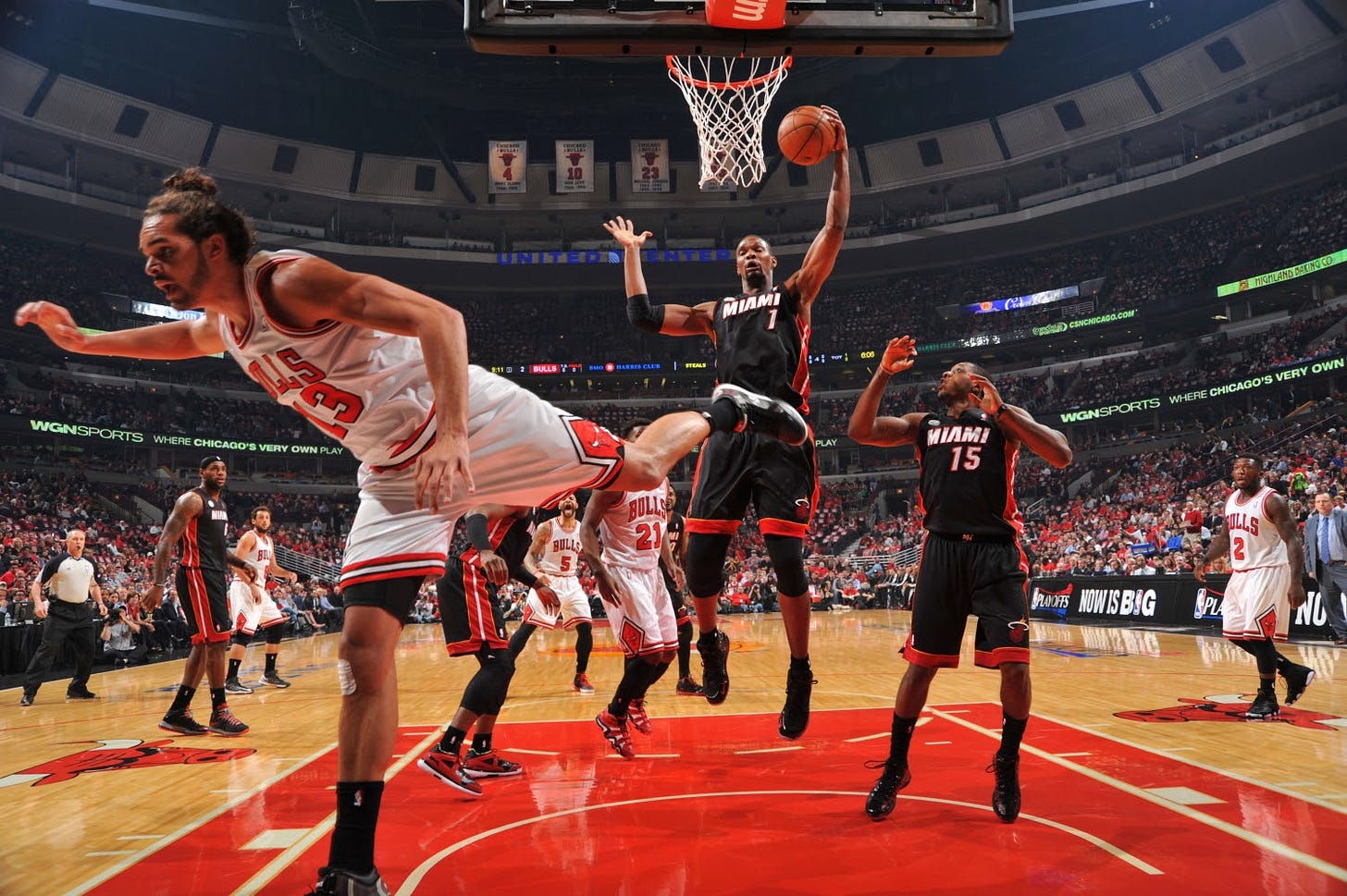 After a playoff game, there were two things I liked to do: eat and drive. It's the best way to blow off the steam of four quarters of basketball, and after a few hours being watched by millions of people, I didn't necessarily want to be seen out. Mostly, I was just pretty damn tired. So even after a big win, I'd hop in the car with Adrienne, find a place to get dinner, and eat it in the driver's seat.
That's what I did after game one against Chicago—only it was McDonald's. And there was no win to celebrate. The Bulls had beaten us, at home no less. And I needed to take my mind off it, with the help of McNuggets, fries, and a brain-freeze inducing McFlurry. Oreo. Always. Order. Oreo. 
I've also been known to hit up Wendy's. This video is from right before we took off for The Olympics in 2008: Me, Bron, Dwight, CP3, and D-Williams in a gas station eating burgers. 
We shouldn't have lost that game, but we also shouldn't have been so surprised—because that's what always happens after a sweep. With eight days off between games, you get rusty, no matter how hard you push yourself in practice. And we also shouldn't have been surprised because we knew this Chicago team wasn't messing around. 
After all, earlier in the year, they were the ones who broke our 27-game win streak, the second longest in the history of the NBA. And while I wish I could say that loss didn't hurt—because it was only the regular season—it did. There wasn't a player on our team who didn't give it their all every single game of that streak, especially once the media started following us around the country. 
We literally couldn't go anywhere without Rachel Nichols showing up—and when she's in the building, you know it's a big game. So we left everything out there on the court. All four quarters. Every single night. But by the time we played Chicago, 26 games deep into the streak, we were tired. And just as badly as we wanted to keep our momentum going, they wanted to end it. And they did. 
We were pissed off that night, but we were able to keep our heads up, knowing we'd accomplished something we'd remember for the rest of our lives; and knowing we could have a chance to play them again in the playoffs.
So, two months later, when we were playing Chicago again? This time, it was personal. Which is why I was so livid we couldn't rise to the occasion in Game 1. Halfway into the first quarter, I felt like I was a half-step behind. Shots weren't falling, my body wasn't listening to my mind—and before I knew it, I went from winning in a sweep to losing at home. Which sucks.  
But even when you're getting beat, you have to stay focused. I knew the mistakes would be on tape, and I knew we'd be looking at them the next morning—after the McNuggets.
I also knew Spo was going to make us feel that loss the next day. After the game, he hadn't said much more than, "Practice tomorrow." That meant we were in for what he called The Hunger Games—practices worthy of the name, where he'd push us as hard as we could go. 
We started the day with a film session, which was brutal. But for as hard as film time could be, no matter what you're trying to improve—whether you're trying to get better at your job or at working out or whatever—I suggest you start doing something similar. Because there's no better way to improve at your craft than watching yourself do it, observing what you did wrong, and fixing it the next time. That's what I call "Doing The Work," and it's an integral part of being the best at what you do, no matter what that may be. 
That's exactly what we did to prepare for Game 2. The idea of giving Chicago any more momentum than they already had was a non-starter. All season, we hadn't given ourselves any options outside of another championship. Even being in a competitive series in the second round was out of the question. So we got after it as a team. 
All of us were naturally competitive, but those Hunger Games film sessions and practices taught us how to lock down our chemistry, develop our ability to communicate without words, and work the collective muscles that had gotten us here in the first place. So by the time we were back on the floor, we knew it wasn't going to be close. 
And it wasn't. With the crowd behind us, we won Game 2 by almost 40. But no one was getting too excited, because we were headed back to Chicago for Game 3. And it's not your average away game, playing there—the minute the lights go down and that theme music starts up, you're dealing with a certain legacy. It made me feel like I was ten, getting ready to watch MJ on TV. Hallowed ground creates good pressure.
But in Chicago, it also creates noise, which, thankfully, we were used to by that point. Having come from Toronto, it took awhile for me to adjust to the BOOOOs we'd hear every game in every place. And the chatter would get to me, too. I wouldn't even consider repeating some of the things I heard from fans of opposing teams. But being under that much scrutiny thickened my skin.
So by the time I was in Chicago, I had heard enough nonsense to know how to tune it out—even the stuff that hurt.
Plus: We'd spent countless practices building our skills at nonverbal communication. Even if opposing fans were so loud that I couldn't hear the words coming out of Bron or D's mouths, I knew what they were saying. We had to win, but we also had to send a message—not just to Chicago, but to whoever we might play next. I think we did both, taking the next three games like the team we wanted to be and knew we were.
After the Semis, it was another week at home. But we had no intention of starting the Conference Finals off flat-footed, especially facing a team like the Pacers. Against them, we couldn't afford to have a bad game. Because they were always tough. And they'd gotten a whole lot tougher since the last time we'd seen them.