Discover more from The Last Chip
Chris Bosh on stories and lessons from behind the scenes of The Big Three's last NBA championship.
Over 25,000 subscribers
The Conference Finals
Game sevens, bitter rivalries, and racial undertones in Indiana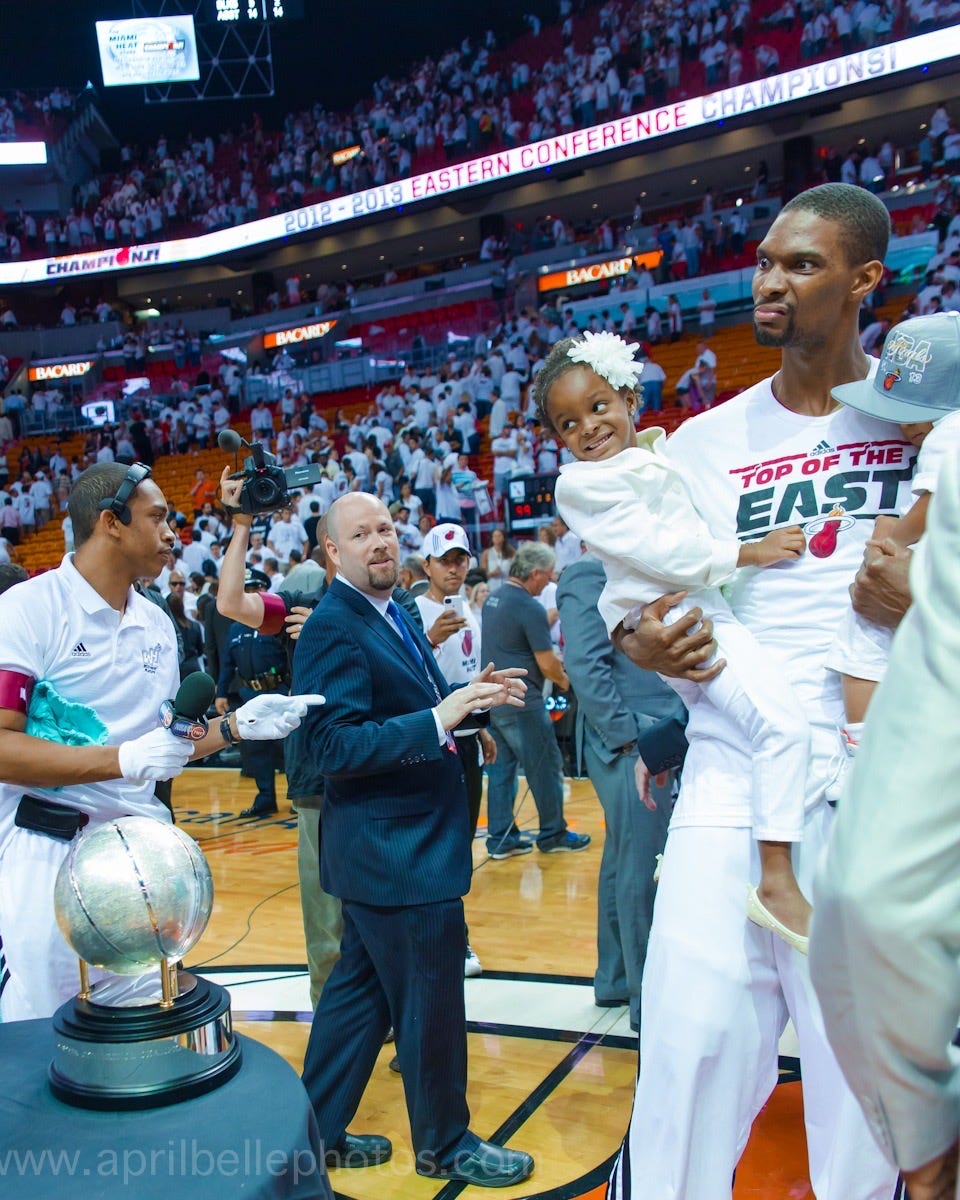 You can watch the footage, or you can hear it from me: We didn't like the Pacers. And they didn't like us. 
All these years later, I still remember the jab one of their guys took at us before we played in the Conference Finals. The Pacers, he said, were "built, not bought." I understood why he said it. Those guys were gonna do whatever they could to get inside our heads—or, as was the case the next year, inside our ears. 
But, to be honest, their trash talk didn't do anything but get us even more hype. Because we despised these guys. And, if I'm being straight with you, we didn't love their fans either. 
It'd be hard to overstate the influence Hoosiers still has on that town. And if you haven't seen that movie in a while, you might not remember the racial undertones, but we did. Hoosiers is about a team of white guys who played the right way taking down the City Boys, who just so happened to be Black. And any time you travel to Indiana for an NBA game, you're faced with the same narrative: This is basketball country. Sure, many of the players on the Pacers were Black, but have you ever seen the crowd in Bankers Life Fieldhouse? Shit's as white as a Trump rally. 
To some extent, this is true wherever you play in the NBA. Every team has every kind of fan—white and Black, rich and poor—but tickets are expensive, income inequality is real, and no matter the city, you're liable to look at the stands—especially the courtsides—and catch a sea of white faces. For a long time, players kept quiet about this, but moments of reckoning like the one we're in now are when we confront hard truths. Like the fact that the fans in the stands at NBA games tend to be much less diverse than the players on the court, not to mention the viewers watching at home. 
Heading into Game One, though, we didn't have to worry about Bankers Life Fieldhouse, because we were playing at home in American Airlines Arena—one of the few venues in professional sports where fans are just as likely to respond to "Calle ocho?!" as "What's up?!" and just as likely to speak Spanish as English. So we were feeling good. But then, Indiana came in hot. 
They led most of the game, which kept us on our toes, until near the end of the fourth quarter when we finally went up three. But we didn't have long to celebrate our comeback, because, just before the buzzer, Paul George hit a 30-footer that sent us to OT. 
The next five minutes were back and forth, just like the rest of the series. Until we were down one, with two seconds on the clock in OT. That's when Shane Battier inbounded the ball to Bron at the top of the key. He turned, took a dribble, and laid it right in. A buzzer beater. 
If you watch the tape, you'll see my hands shoot straight up along with the rest of the crowd. But I can't say it was a great feeling. We felt like we'd underperformed, and after what happened against the Bulls in the last series, we really didn't want for this Game One to even be close. So you can imagine how pissed we were when Game Two ended up being even worse. 
It was tight all four quarters, but Indiana took advantage of the fact that our teams had two radically different game plans. We wanted to move at a fast pace. They wanted a slow, locked-down game, with a final score in the eighties. I was out of rhythm, having trouble in the paint, while the Pacers defense clogged up the paint.
So I started shooting threes, just like Bron was doing, and while some of them dropped, we just felt... off. And, in the end, we lost: 97-93. 
When we landed in Indiana for Game Three, we were not messing around—and we made a statement by winning our next matchup by close to twenty points—before trading off the next two games, leaving us up 3-2 in the series. 
That was when the intensity peaked and things started to get more physical, just like they had the year before, when Tyler Hansbrough basically punched D on his way to the hoop in the semis. (Watch the film—he tried to take him out.) 
We'd retaliated at the time, which is what you need to do, because you can't count on the refs to protect you. That became clear in Game Six. 
As we were pulling together a comeback, Bron was called for a charge—not because he ran into one of their guys but because they met in midair.
Think about that. Normally, you have to have your feet planted to draw a charge, but they let him get away with being in the sky? That's enough to drive you crazy as a basketball player. Which is why, instead of simply accepting the call, Bron and Fiz, our assistant coach at the time, protested—and both got slapped with T's. That allowed Indiana to pull away, but it fired us up for Game Seven. 
Though, to be honest, I was in a bad place back then. I was pissed, I was hurting, with a bum ankle that I turned in Game Four, and I was playing like crap, so I knew complaining about calls was pointless. What I needed was to fix my game. 
So I spent my plane ride back to Miami thinking about how to beat the funk I was in. I'd been taking shots like I was shooting well… only they weren't dropping. My average was somewhere in the high single digits, and I wasn't making up for it with rebounds. I'd even apologized to the city of Miami in a press conference. (Nothing wows reporters like admitting you've been stinking.) And when I landed back in Miami, even though Spo was going to give us a day off to refocus before Game Seven, I knew I wasn't going to be able to relax. I had to get to the gym. So I called Juwan Howard.
Spo didn't want us anywhere near a court on those rest days, but the only way I knew how to regain my flow was to get on the court with a sparring partner and beat the shit out of each other. Juwan had been on our team over the past few years, but he'd spent that postseason with our coaching staff. 
He was a role model, a rock-solid player since his time with the Fab Five, and a hell of an inspiring speaker. He was also down to help me sweat out the frustration I'd built up over the last six games. 
We went from spot shooting to drilling pull-ups and upfakes and finally post work, jump hooks, and turnarounds. He played me one-on-one with the same physicality I'd felt from the Pacers all series. Slowly, my confidence started seeping back, as I regained reflexes I hadn't been using. If you're skinny like me, you have to make up for it with aggression. Juwan reminded me of that. It was exciting, but mostly, it was cathartic. And for all Spo's talk about the importance of rest days, he was right there in the gym with us, nodding his head as he saw us regain our mojo.
I rode that energy right into Game Seven, winning the tip and making my first shot. As I felt my own confidence returning, the whole team was syncing up. It was like we were all sizing up the Pacers from across the blacktop: These guys? Pshhh. No one talked about the stakes of this game—about what would happen if we lost—partly because we all knew what it would mean in the back of our minds, partly because of how hard we were grooving by halftime, and partly because we trained for moments like this. 
I found my spot in the paint, grabbing boards and trying to facilitate Bron, D and Rio as much as possible. I even sunk a few of my own shots, but that didn't matter as much as the fact that I felt like myself on the court again. We were performing for the home crowd and ourselves, reminding everyone in the AA how and why the guys on the court worked so well together as we all started to realize that we'd be in another Finals.
Even though we were up twenty when security brought in the yellow rope, there wasn't much of a sense of relief. We were out here to do our job. That night, it meant celebrating, but the next thing on everyone's mind was the film room, where Spo would run us through who our next opponents were: what they did and didn't do, how we'd find the gaps and run right through them, how hard all of that was going to be. 
The Eastern Conference Championship hats were special, but we were going to have to take them off before we went to San Antonio.