Discover more from The Last Chip
Chris Bosh on stories and lessons from behind the scenes of The Big Three's last NBA championship.
Over 25,000 subscribers
Round One
Late night card games, Kobe at The Olympics, and the boredom of first round sweeps
Welcome back to The Last Chip, the newsletter where I share stories and lessons from behind the scenes of The Big Three's last championship season. This is a free post, but if you want access to every issue of The Last Chip—and if you want the chance to talk with me directly in the comments—you should become a paid subscriber. All proceeds from the first month will be donated to Color of Change, a leading organization in the Black Lives Matter movement, and all it costs is five bucks, so sign up now: 
Here's what they don't tell you about winning an NBA Championship: As soon as you take home your first title, it's time to start chasing the next one. 
Well, after you spend a few days partying. Following our inaugural chip, we turned up in a way we hadn't since that first week in Miami, spending every night at a different spot with the same props: a giant cake; enough champagne to fill Biscayne Bay; Heat fans, new and old. And then, we'd sleep for a few hours before doing it all again. 
Except the night before the parade. That night, I can't say we slept at all.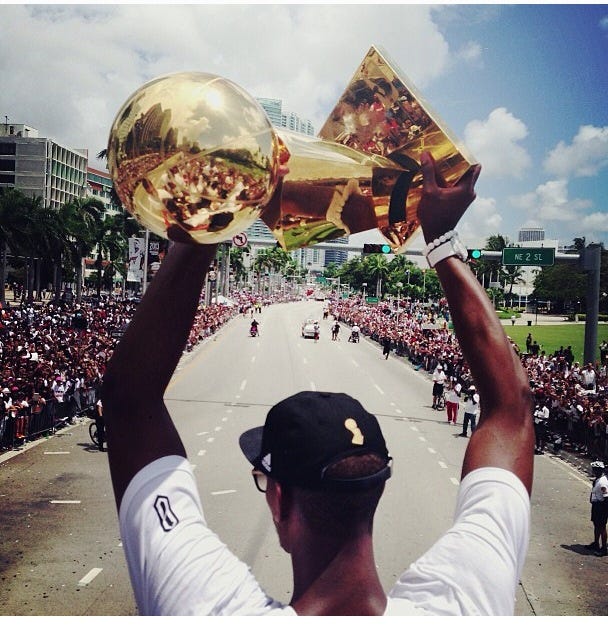 I promised my wife, Adrienne, we'd celebrate with a vacation, so I went off the map for a couple weeks, thinking I wouldn't fall too far behind while I was away. But when I returned to Miami, and saw Bron for the first time, I realized I had some catching up to do. "You should see my post game now," he told me with a goofy grin on his face, sending me straight to the gym. At that moment, the joy I felt about winning in 2012 gave way to an insatiable appetite to repeat in 2013. 
That's the kind of motivation Lebron—and D-Wade—always provided for me, even before we were on the same team. I still remember what it felt like to be sitting in the 200 section of the bleachers during the 2005 All Star Game while those guys were on the court playing. That lit a fire inside me. And so did watching them make deep runs in the playoffs while I was playing pick-up basketball in the Texas heat, long after the Raptors packed our bags for the off-season. 
But the moments when I was most inspired by Bron and D weren't when we were on opposing teams but when we were on the same team—starting during The Olympics in 2008.
That summer, Kobe set the tone for all of us, which meant nobody was messing around. And the intensity started on the day of our first practice in Beijing. 
That morning, I headed down to breakfast early, which made me feel good about myself—because I figured most of my teammates were still sleeping. And I was right. Basically no one else was down there... except for Kobe. Not only was he the first to breakfast, but he also had ice bags on his knees, which meant he'd already worked out. 
Mind you, this was less than two weeks after the Lakers lost in the Finals to the Celtics. You couldn't have blamed him for resting up and focusing on being healthy for the next season. But instead, the dude was pushing himself harder than any human being I had ever met—waking up at 4:00 a.m. to hit the gym. That meant all of us were gonna push ourselves, too. 
With Kobe as an inspiration, D and Bron elevated their games that summer, balling out at practices at a level I'd never seen before. And they, in turn, inspired me. Hell, we all inspired each other. Because we knew that if we didn't step up, there was no way we'd get playing time. So I started hitting the gym earlier than I ever did before.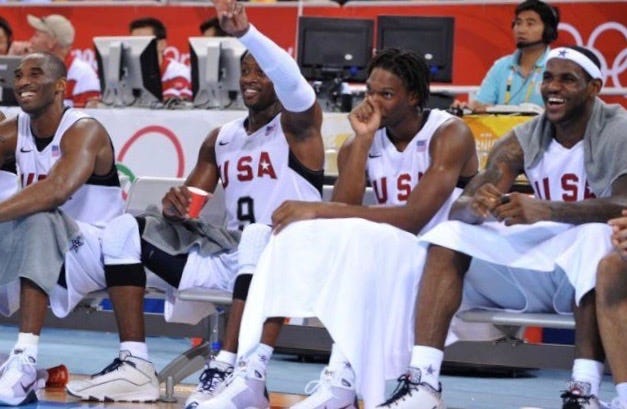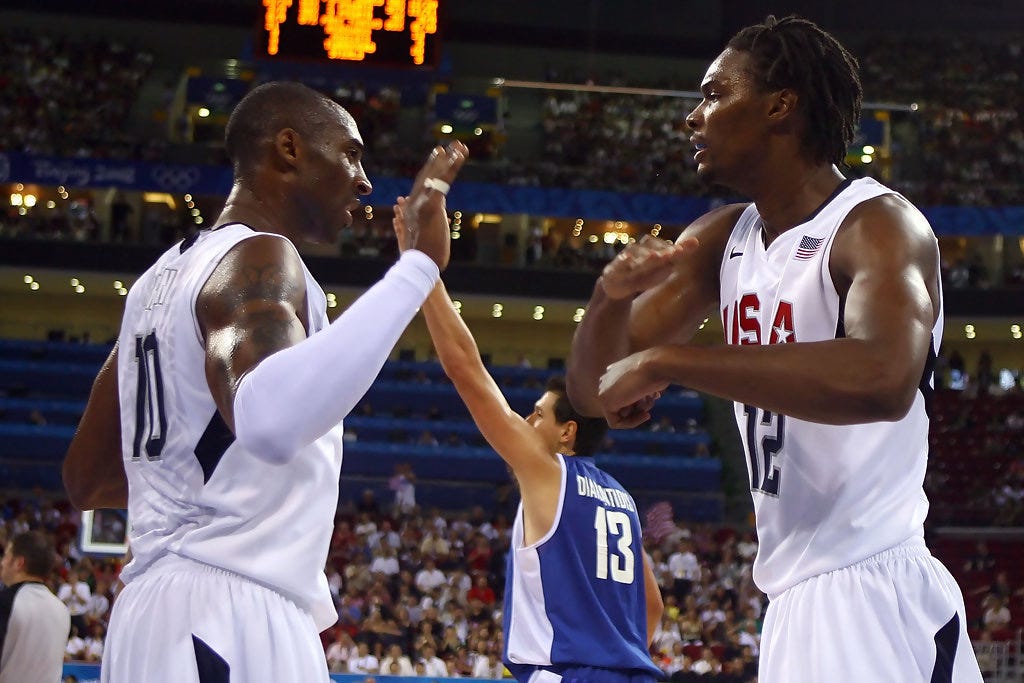 That's the same intensity we brought to Miami, and it's one of the things about my time there that I cherish most: Every day, I was inspired by Bron and D-Wade to push myself harder and reach higher. Not a practice went by during our four years playing together where they didn't encourage me to leave everything on the floor; and I'd like to think I did the same for them. 
So, when Lebron told me he'd reinvented his post game in the first few weeks of the 2012 offseason, I knew I had to step it up. And I did. Quickly, our team's mantra became "Repeat." And with new additions to our team, like Ray Allen and Rashard Lewis, we were confident we would do it, as long as we kept the intensity at level ten.
Which is exactly what we did throughout the regular season—and, for that matter, the first round of the playoffs, which went by in a flash. I don't remember much about it, to be honest, except for the shenanigans we got up to in Milwaukee; primarily, going to the same Italian restaurant with my best friend Geno every single day. 
The spot was called Calderone's—and I can't say I was doing ketosis or slow-carb or plant-based or any of the shit guys in the league are on these days. I wasn't pigging out, but I was eating. A lot. Cause everything they made at that place was insane. The chicken parm. The steak. The pasta. The last night, I asked if they made pizza. They told me they could. Then it was some of the best I ever had. So if you're ever in Milwaukee, go to Calderone's, and tell them Chris Bosh sent you. 
That's not to say we took it easy on the court, even in the first round. Trust me, we went after it. Before every game, Bron would say: "Play till you're on empty." And if that wasn't motivation enough, we also knew the rest of the league would be watching—and we wanted Chicago and Indiana, San Antonio and Oklahoma City to know we weren't messing around. 
But since round one wasn't exactly competitive, we also fine-tuned our competitive instincts off the court. In Milwaukee, there was a ping pong table in our hotel, where battles were intense. And then, there were the card games. 
Now, we weren't taking overnight trips to Vegas, though you should know: That still happened from time to time when I played in the NBA; and I'm sure it does to this day. Instead, we'd play Guts wherever we were, but we made sure to never let it get too intense, because we'd seen debts ruin so many teams. Think about it: If a teammate isn't passing you the ball and owes you a hundred thousand dollars, that's not going to end well. So we'd play relatively low stakes hands, and if shit ever got out of control, we'd stop gambling for a while. 
The most intense competition in the first round of the playoffs, though, isn't anything I mentioned above. Not the games. Not the extracurriculars. No, it was everything we did to prepare. The long workouts in the gym with UD. The hot tub sessions with Shane where we'd go through our defensive plan. The scrimmages. The long sessions watching tape. Even if we won a game, Spo would spend hours telling us what we could have done better. And he'd be right. 
So we took every quarter of round one as seriously as we would in a championship game. Because you can't take it easy and then expect yourselves to rise to the occasion when it counts. You need to start the playoffs at a high level—and then stay there. If you put your foot on the brakes for even a moment, you damn well might forget where the pedal is. 
That's a lesson we learned against Chicago in the first game of the next series... but that's a story for next week's newsletter.